Little Boots Releases "Out Out" – 18.02.22
On February 18th, artist, songwriter, producer and DJ, Little Boots aka Victoria Hesketh releases "Out Out" via her own imprint On Repeat Records. "Out Out" is the last stand-alone song to be shared before her upcoming self-produced album release.
Listen To "Out Out' HERE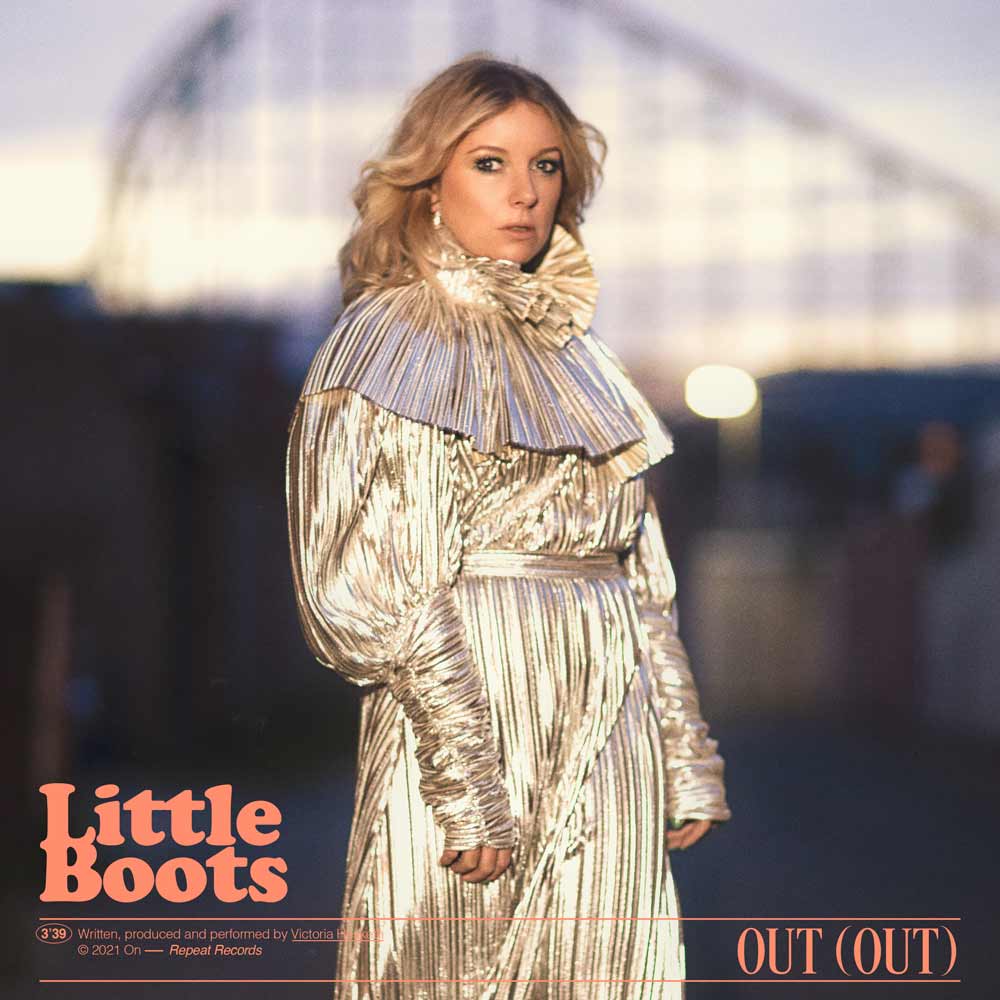 'Out Out' is a blissfully optimistic, joyous ride, delivered via creative sampling and addictive beats that take hold of your senses. Little Boot's continues to shine a light on those nostalgic dancefloor moments by producing pop that is so consistently epic, that you honestly want it to stop where it is forever.
Victoria said about the single, "This track was partly inspired by dreams of going out during lockdown and how wonderful it would be when we could again. But it also got me looking back on how exciting it was to go out as a teenager in my hometown of Blackpool."
Little Boots fourth studio album "Tomorrow's Yesterdays" will be the first that is solely written and produced by the artist herself. The making of the record was powered entirely by the support of fans on membership platform Patreon. Previous releases from the album 'Silver Balloons', 'Landline' and 'Crying On The Inside' were praised by leading online music press including BBC Ents, NME, Clash, and Paper while being playlisted by both Apple Music and Spotify UK. Victoria will also join the highly anticipated ABBA 'Voyage' concert in May 2022, where she will be singing backing vocals, playing live keyboards and synthesisers.
In October 2021, Little Boots showcased the music from her new album alongside old favourites at a series of sold-out intimate shows across London and Manchester.
INSTAGRAM / FACEBOOK / TWITTER / SPOTIFY / APPLE / WEBSITE
Praise for Little Boots
A long, tall glass of sparkling pop – BBC
It's an absolute delight, an upbeat mover that reminds us just why dancefloors have always been so intoxicating. – Clash
Little Boots' touching new song, 'Crying On The Inside' – NME
"Landline" sees Little Boots indulging in pure unadulterated disco nostalgia. Full of bright shimmery synths and bouncy basslines – Paper Magazine
Undeniably stylish… simmering electropop"— BILLBOARD
"it's a deliciously hypnotic slither of electropop majesty"- The Guardian
Little Boots continues to produce some of the most consistently impressive intelligent leftfield electro-pop – The Line Of Best FIT
"a force in the world of music, Little Boots continues to push her career forward with an unstoppable ambition." – Mix Mag
"She's more confident about her work than ever before."— PAPER MAGAZINE
"The new era of Little Boots is here"— NYLON
LATEST NEWS
FEATURED VIDEO
TWITTER
INSTAGRAM
SPOTIFY