Little Boots Releases "Landline" – 12.11.21
On November 12th, electro-pop artist, producer and DJ, Little Boots AKA Victoria Hesketh releases "Landline" via her own imprint On Repeat Records. "Landline" follows 'Silver Balloons' and is the second single from her upcoming self-produced album set for release in spring 2022.
Listen To "Landline" HERE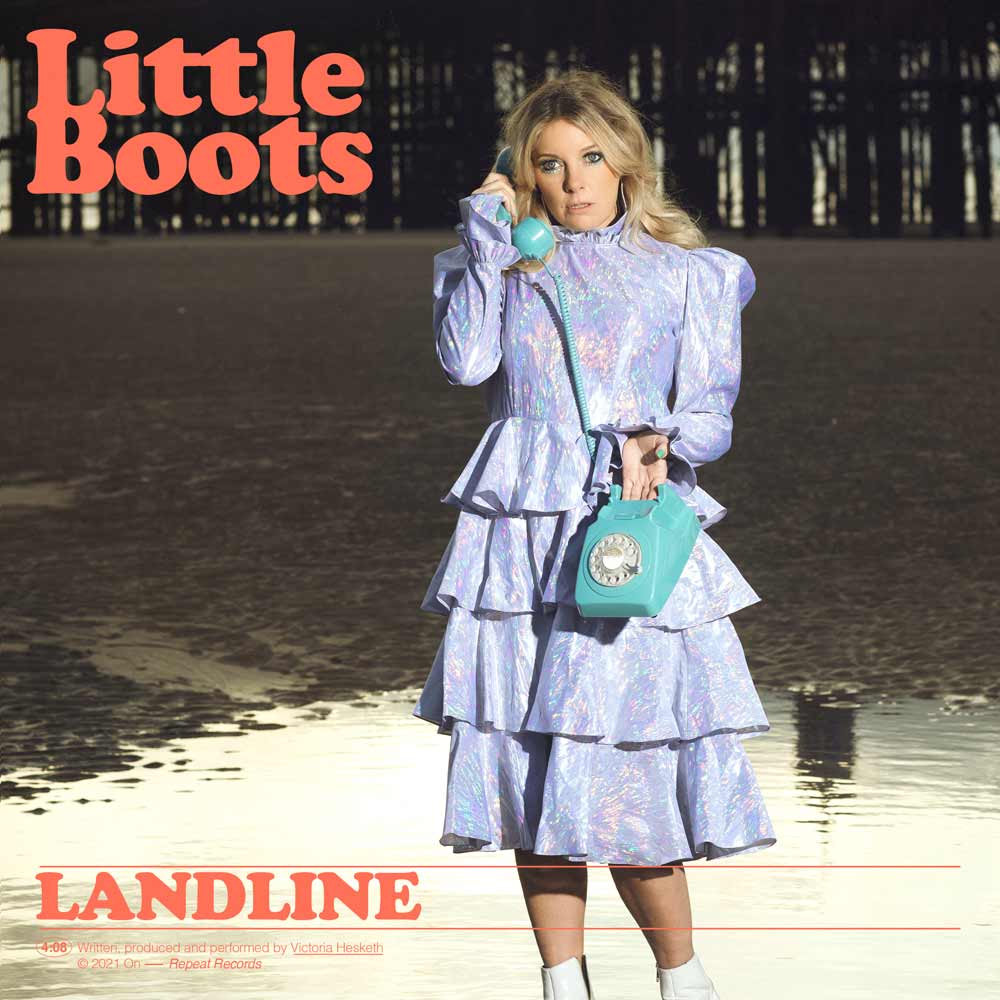 The dance floor ready track glistens with nostalgic playfulness as Little Boots continues to shine a light on her true DIY disco pop artistry. Luminous vocals shimmer over slinky digital grooves and a pulsing bassline as the track bounces forward with shiny optimism. 
Victoria said about the single, "Landline is a nostalgic song about being a teenager in the 90's, when you would spend hours clogging up the family phone line to talk to your school boyfriend or girlfriends. I got thinking about this in lockdown as music was still something that helped me feel close to friends even if we physically couldn't be together, emotionally you can still feel connected through a shared playlist or remembering an old track. That's one of the music's superpowers and it remains true throughout my life, whether its pressing play on a tape machine down the phone years ago, or dancing with my friends on zoom through the pandemic to a favourite anthem. Sonically the track has a sunny disco feel, I wanted to channel classic Chic via DJ Koze, but through my own DIY sound, putting the piano and big vocal stacks at the centre then weaving strings and synth parts throughout.
Little Boots fourth studio album is the first to be solely written and produced by the artist herself. The making of the record was powered entirely by the support of fans on membership platform Patreon. Previous release 'Silver Balloons' was praised by leading online music press including BBC Ents, NME and Clash and was playlisted by both Apple Music and Spotify UK. Victoria also recently announced her part in the highly anticipated ABBA 'Voyage' concert, where she will be singing backing vocals, playing live keyboards and synthesisers.
In October 2021, Little Boots showcased the music from her new album alongside old favourites at a series of sold-out intimate shows across London and Manchester.
A continued adopter of independent artist tools and innovation in music and technology, Little Boots has entered the decentralized music NFT space today, and is currently auctioning off a 1/1 mp3 of Landline, via Catalog marketplace, take a look at the auction HERE
LATEST NEWS
FEATURED VIDEO
TWITTER
INSTAGRAM
SPOTIFY