Chase Woods shares new EP ''Better Late Than Never' – 21.07.23
For fans of: Mac Miller, Anderson .Paak, Free Nationals
On July 21st, 2023, Palmerston North, New Zealand rising star, Chase Woods is set to release his next EP 'Better Late Than Never', produced by Shush. The 4-track EP features lead single 'Bedside Table', previous releases 'Carhartt Jacket', 'Lovesadrug' and brand new single 'Fine2me'.
Listen to 'Better Late Than Never' EP HERE
Listen to lead single 'Bedside Table Single HERE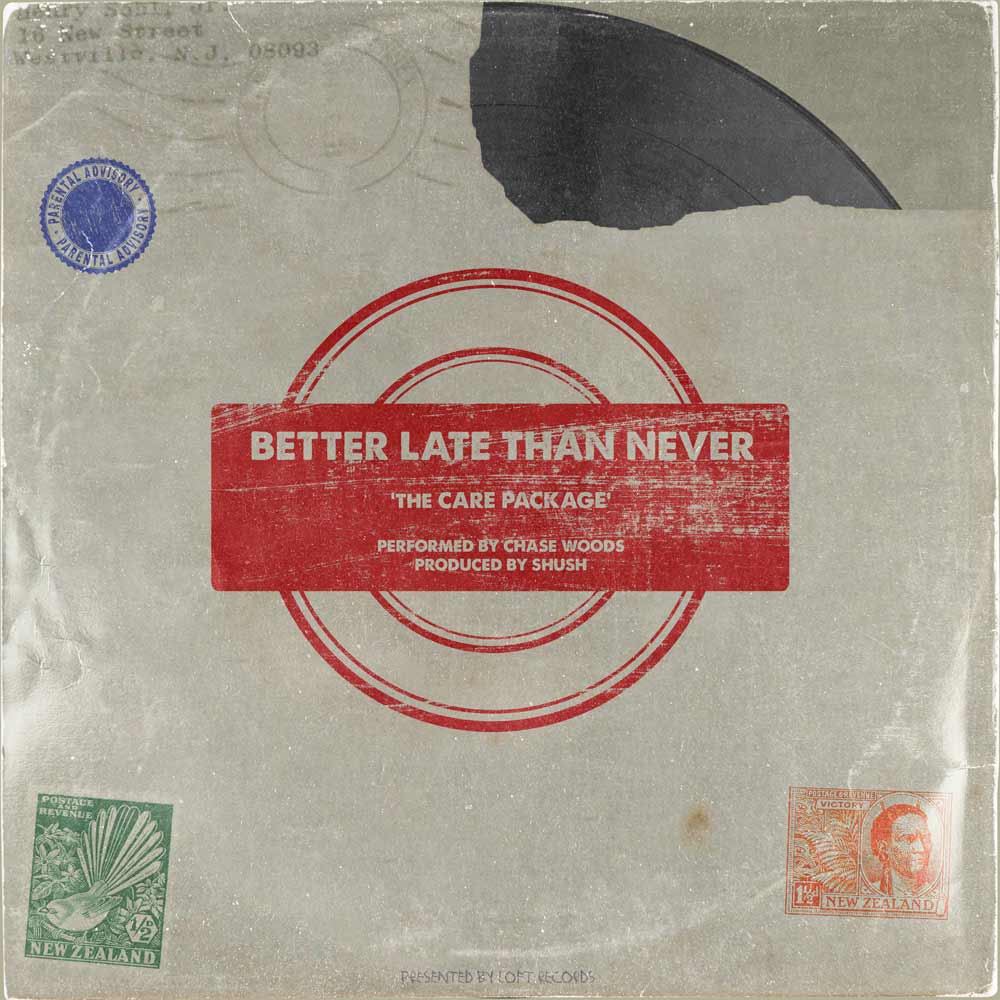 'Better Late Than Never' is an epic collection of soulful, hip-hop-infused songs. Laden with captivating hooks, connected by a strong backbeat, spacey synths and bold eccentric melodies, whilst Chase's smooth, laidback vocal cuts through over the top to shine a light on our obsessions. 
Chase Woods Said about the EP: "I wanted to have some fun with this EP and not get pulled into anything too serious. I found myself focusing a lot on the highs and some of the more grounding, stages of relationships. Although it mainly stays on course, when it came to EP track 'Lovesadrug', I couldn't help but be pulled into my go-to writing style, which draws on past experiences and takes a darker edge to sonically uplifting songs."
He continued to talk about the Lead single "'Bedside Table' is a love story, written about my partner. The song talks about her little habits that wind me up but make me love her that much more. It's her imperfections that drive me crazy (In a good way)."
Woods burst onto the music scene in 2020 and has been captivating audiences with his fresh sound and storytelling ability ever since. At the end of 2022, he released his debut EP Terrace End Tapes, showcasing his musical range and establishing him as one of New Zealand's most exciting new artists. On the back of these releases, Chase has also completed a successful writing trip c/o APRA Amcos, more to come from these sessions.
Having been compared by online tastemakers to legendary rap acts such as Anderson.Paak and Mac Miller, Chase Woods' skyward trajectory is set to continue into 2023 and beyond.
Track listing
LovesaDrug
Fine 2 Me
Carhartt Jacket
Bedside Table
Stream/Follow: Spotify / Apple Music / Instagram / Facebook / Twitter / Tiktok / Website
Key Online Support:
Chase Woods' music transcends borders and resonates with people from all walks of life.- Future Nostalgia
It's an upbeat song about hard times, one that'll bring to mind Anderson.Paak or Mac– Speed on the beat
Over a dance-infused bouncy soundscape, he takes listeners on a trippy journey into two different minds and how they deal with their peculiar addictions. – Word is Bond
'Landlords' is an uplifting track showing us a glimpse of CHASE WOODS' potential – Unruly
Chase masters the duality between singing and rapping, creating a fresh and innovative sound – Hash Brand New
Palmerston North artist Chase Woods shares resilient new single 'Silent Nights' Sniffers
Roaches shines a bright light on the artist's brilliant artistic craftmanship as he utilizes a captivating beat to deliver a stunning futuristic tune that captivates the ears of good music lovers – Hype Fresh
Chase Woods is getting the party started today with his new single "Lovesadrug."– Variance Mag
LATEST NEWS
FEATURED VIDEO
TWITTER
Our Twitter feed is currently unavailable but you can visit our official twitter page @charmfactory.
INSTAGRAM
SPOTIFY