Allen Anjeh releases debut EP "Ó mmɛ ne" via Universal Denmark – 08.09.23
Includes lead single "I SEA U"
On 8th September 2023, Cameroonian-Danish alt-R&B talent, Allen Anjeh, releases her striking debut EP "Ó mmɛ ne" alongside lead single 'I SEE U' via Universal Denmark.
Allen enlisted the help of specialist writer and producer talent for the 5-track EP, including London-based Nigerian artist/producer AZEKEL, Danish music producers, Esben Zefting and Mark Fosnæs and London-based, Danish Producer Mont Jake.
Listen to EP "Ó mmɛ ne" HERE
Listen to track "I SEA U" HERE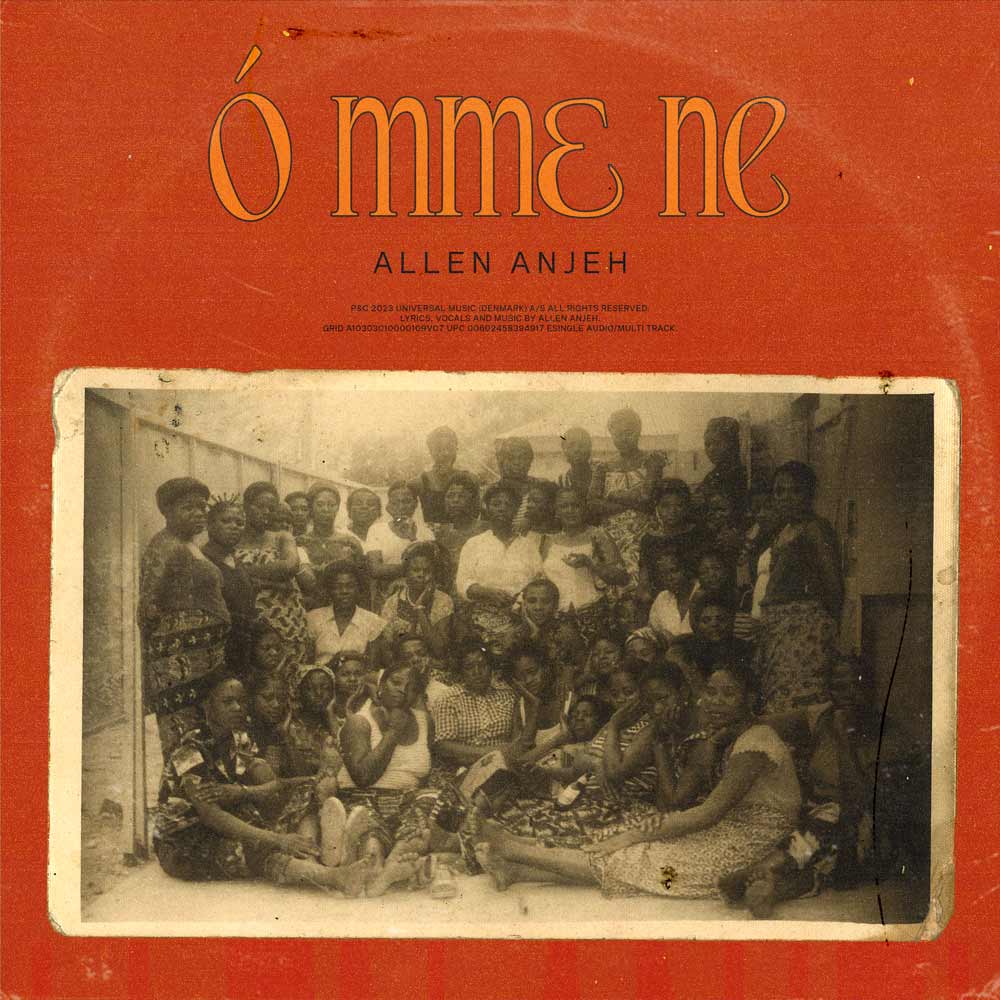 The Cameroonian phrase 'Ó mmɛ ne' directly translates to 'this is I'. Allen Anjeh's EP of the same name delivers a stunning collection of alternative RnB songs that touch on human connections, whether romantic or platonic. How we influence one another, whether deliberately or unconsciously. It focuses on fragility, insecurities, frustrations, vulnerability, compassion, love, and, most significantly, communication barriers.
Allen said about the EP "Ó mmɛ ne radiates my youth. This EP marks the beginning of my internal complexities colliding with my external as I attempt to find some form of harmony. The songs all have a personal significance to me and I hope others can seek their own interpretation in them. I think attentiveness is one of the most profound ways for humans to get closer to each other's hearts. One thing I took away from creating this EP is that we are not better off being misunderstood, we should always try to understand one another, because if we are both talking, then who is listening?"
She continued to talk about lead single "I SEA U" "I hope this song simply brings a smile to peoples' faces. I hope that others can channel the same energy that I put into this song; everything came from a positive standpoint, and I was in a very joyful headspace when creating it, and that is the kind of energy that I want to spread. I think we put too much pressure on ourselves sometimes by trying to figure everything out at once, when it's alright to be in the unknown"
Allen Anjeh is here to speak her truth. A bold fashion-forward voice within alt-R&B, she draws heavily on her experiences as a child in Cameroon, and a teenager in Denmark, to sculpt something that is truly hers. Growing up, she was exposed to an eclectic mix of sounds, from her brother's unwavering selection of 90s hip hop, such as Nas, Biggie and 50 Cent, she also loved the latest MTV videos from inspirational female acts such as Destiny's Child and Missy Elliott and then there was her grandmother spinning Cameroonian classics from artists such Manu Di Bango, or righteous Nigerian icon Fela Kuti. In short, it was an inspirational brew of musical influences that flowed through the household.
The artist's life was turned upside down at the age of 12, when Allen left the comfort of her extended family in colourful Cameroon and moved to Denmark, to join her mother in Copenhagen. It was then that music became Allen's safe space. She won a spot in the school choir, stealing the show with an incredible solo. But her big break came when she signed herself and her best friend at the time up for X-Factor as a prank, with no idea about the potential exposure it could garner. The artist recalls the whole experience as pretty unpleasant, but as the only black kid on the show, the small, but powerful, black-Danish community gravitated towards the pair and this is where Allen began to earn legitimate recognition and a fanbase. Sometime later, an old friend from the show introduced Allen to Danish music producers Esben Zefting and Mark Fosnæs. Together they nurtured her songwriting and helped Allen Anjeh to figure out where her voice lay. The artist's love for fashion and music coexists harmoniously together, alongside a glorious fusion of African colour and Danish style which has earned her an ongoing collaboration with H&M.
Allen's songwriting draws inspiration from her own unique experiences of growing up in two wildly different worlds, creating a musical universe that speaks from the heart. Her music has become a means of tethering the artist to her African heritage, and to the communities she grew up in. Her songs focus on fragility, insecurities, frustrations and vulnerability as well as compassion, love, and, most significantly the communication barriers she has faced.
The 'Ó mmɛ ne' EP takes the best of Allen Anjeh's eclectic influences to create something truly mesmerising, there is a unique blaze of creativity that keeps us hooked from the outset. With releases to date playlisted by Spotify and supported online by key tastemakers such as Clash, Wonderland and Earmilk, the artist looks well set to take the world by storm.
Track listing
Rising Sun
Once In A Million
I SEA U
Malick
Circumstances
Social Channels: Instagram | YouTube | Spotify
Praise for Allen Anjeh
A fashion-forward multi-hyphenate, music has long sat at the core of her being – from traditional African sounds through to 21st century R&B – Clash
The exceptionally talented alt-R&B talent blesses us with her latest stunning single, an emotional portrayal of one-sided relationships – Wonderland
"delivers a soul-gripping piece that dives into the dynamics of one-sided relationships and the emotional build-up that occurs in these situations." – Earmilk
Note to Editors:
'Once In A Million' and 'Circumstance' co-written with London-based Nigerian artist/producer AZEKEL
'I SEA U', 'Rising Sun' and 'MALICK' co-written with Mark and Esben
'I SEA U', 'Rising Sun' and 'MALICK' produced by London-based, Danish Producer Mont Jake
LATEST NEWS
FEATURED VIDEO
TWITTER
Our Twitter feed is currently unavailable but you can visit our official twitter page @charmfactory.
INSTAGRAM
SPOTIFY