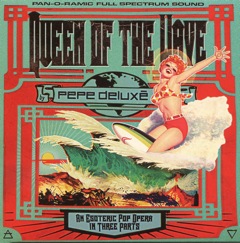 Pepe Deluxe are releasing their brand new album 'Queen of The Wave' on the 30th of January, on Catskills Records. It's an esoteric pop opera that's totally a unique proposition. Thematically, it's based around the mystical 19th Century Novel 'A Dweller on Two Planets', which was supposedly chanelled by it's American author, Frederick S Oliver from a cosmic entity called 'Phylos the Thibetan' and concerns life in Atlantis and on Venus, sci-fi futurism and reincarnations.
Pepe Deluxe – The Storm
Essentially, 'Queen of The Wave' is a concept album. It runs rampant through Hammond and wine-glasses – funk ballad 'Queen's Wave' to the Bassey Bond theme-esque 'My Flaming Thirst', from the Duane Eddy big beat of 'A Night and A Day', to the Wagnerian choral explosion of 'The Storm'. All of this is interspersed with gorgeous moments of languid beauty that take the pace right down.
'Queen of The Wave' is unlike anything else around – truly original late 60s Sunshine pop from another dimension where Kennedy wasn't shot and man is building colonies on Mars.
Pepe Deluxe will donate all the profits from the sales of this album to the John Nurimen Foundation to be used in the Clean Baltic Sea project. The aim of the project is to protect and achieve a visible improvement in the condition of the Baltic Sea.