The team at Charmfactory have been involved with music and the internet for over 19 years – through all the technological developments, dot com bubbles and file sharing eras – we are still operating successful and effective online campaigns for a range of artists and brands. See our services in more detail below:
Music PR
Many agencies working within this highly specialised market tend to focus on a specific genre. We pride ourselves on our strengths across all genres of popular music, from emerging independent artists, platinum-selling pop and urban artists, to the legends. It's not just artists and label campaigns, however – we've brought our PR expertise to major events and festivals, as well global brands.
Creative Marketing
Whether it's teaming up with a brand for a one-off event, or partnering with an organisation for a giveaway, we're constantly looking at ways to enhance our campaigns and widen reach. Below are some examples.
Hozier – Album Promotion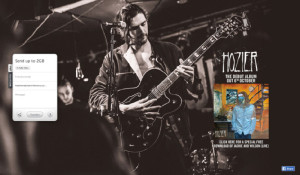 Hozier released his debut album in October 2015. Throughout the two weeks around release Charmfactory ran a global promotion with WeTransfer to promote the album. In order for further engagement, we offered WeTransfer uses a free download of live audio for an album track. The promotion delivered 2.5 million impressions.
Renaissance Hotels
St. Pancras Hotel – our collaboration with St. Pancras Hotel goes from strength to strength with yet another successful night of live music. To celebrate the Renaissance's group Global Day of Discovery we jointly invited over 500 people and secured two artists from our roster Hudson Taylor and Kimberly Anne to perform.
Tate Modern and Africa Express present Terry Riley's In C Mali – an interactive film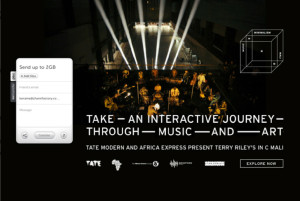 The Tate's brief to Charmfactory was to maximise digital press and online conversation around the launch of the interactive film. This would include seeding the film, social media promotion by third party sites and negotiating exclusives. We delivered coverage on: Creative Review – fantastic feature which they shared across their social channels which includes over 1 million people on Twitter and included it in their weekly newsletter which went out to over 20K subscribers. The Financial Times (print and online), BBC Arts, Guardian, Pitchfork, Rolling Stone, FACT Mag, The Line of Best Fit, Clash Music, The Readers Digest, DIY Magazine (x2), Consequence of Sound, Exclaim (x2), World Music Review (x2), Urban Development, Ok Africa, MXDWN and Radio Alterno. There is also a Tech Crunch feature still to follow. A three-week, global We Transfer promotion valued over €27,500 was secured by Charmfactory which included a direct stream of the interactive video trailer on WeTransfer and linking away to the interactive film, thus driving awareness of the interactive and views of the trailer and interactive film.
Social Media
Whether you're developing a newly signed act, or gearing up for your second album release, social media has never been more important in ensuring your campaign reaches the right people at the right time.
At Charm Factory our expertise in channel management means we can create successful and creative social campaigns that drive interest, engagement with fans and sales for your acts, on either a short term or long term basis.
So what does this cover?
– Updating of each social platform in line with best practice tactics
– Research & planning of all content
– Management of a weekly editorial calendar
– Development of creative audience acquisition ideas (competitions, games)
– Curation and posting of highly engaging content via: text, videos, playlists, comments
– Monitoring, listening & responding to artist mentions and other relevant topics
– Tactical planning and ideation based on analytics
– Reporting & measurement of content and campaign strategy