On January 22nd, Karl Zine, producer, songwriter and one half of successful alt-pop duo RINNGS will release his debut album 'Hyper', alongside lead single 'Diving', via Wow & Flutter Records. The album also features previous singles 'Call It A Day' 'Saffron', 'Outrun' and 'Greenscreen' along with 4, brand new tracks. 'Hyper' was written and produced by Karl Zine, mixed by Grammy-Award winning Andreas Eide Larsen and mastered by Christian Wright at Abbey Road studios.
Listen To 'Hyper' HERE
Listen To 'Diving' HERE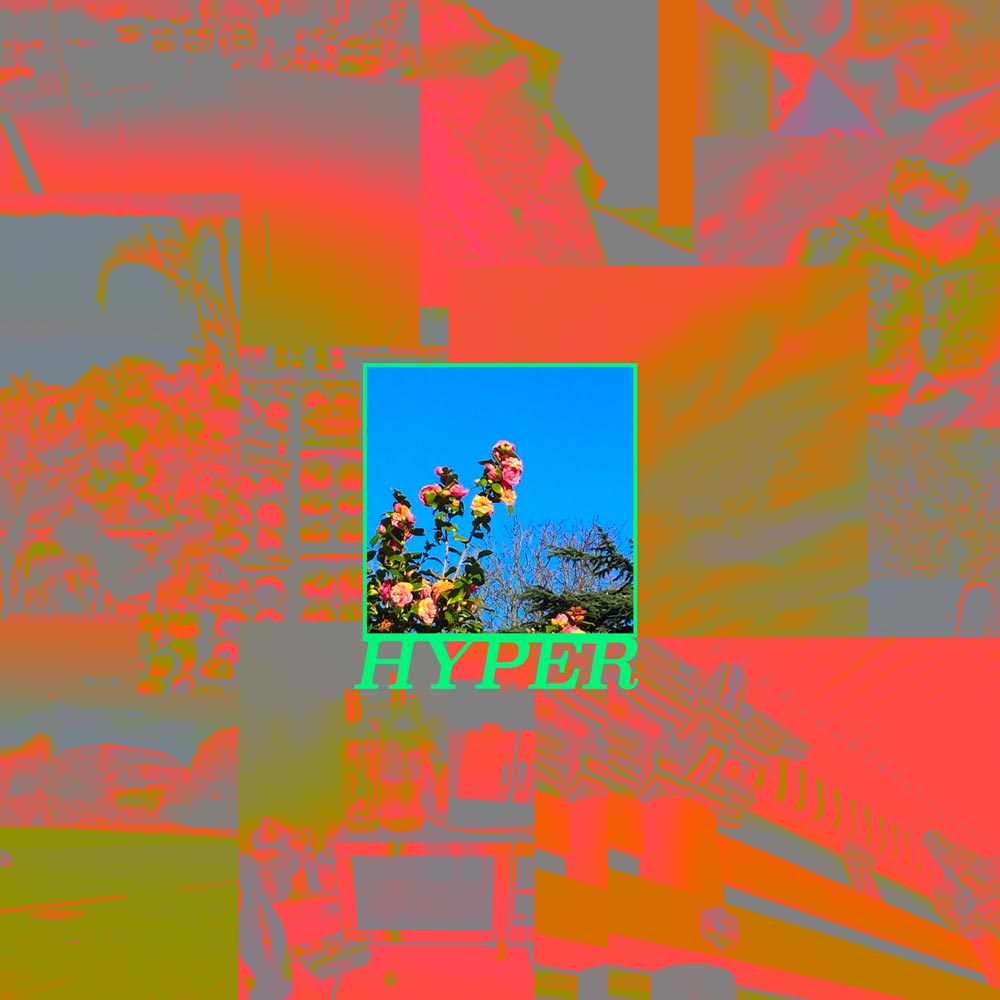 Hyper' delivers a relatable collection of songs that dissect the entire lifecycle of a relationship piece by piece, from the euphoric highs to the debilitating lows. Musically the album defies genre boundaries, intersecting beat driven jazz influences with eccentric pop melodies, there's also a generous dose of stripped back songwriting, where sophisticated, graceful piano lines, float alongside minimal electronic atmospheres. It's an album to be devoured in its entirety, immersing the listener on an almost voyeuristic ride of fluctuating emotions. 
Lead single 'Diving' explores the pull of being drawn to those who seem to be able to conquer their fears in pursuit of fulfilling their own desires. The edge of the diving board makes a perfect metaphor for that moment before you do something you're scared to do and to try and avoid it is to limit yourself and inhibit your potential.
Karl Zine said about the album "'Hyper' is a record about the experience of life, love and the concept of free will. I wanted to explore the nature of relationships in all their wonder, mystery and heartache, from the euphoric 'hyper' highs of idealised fantasies, to the debilitating lows of often imperfect realities resulting from lost love and heartbreak. It's a record about what it's possible to feel and why we feel the things we do.
Although I'm still a huge fan of traditional song structure, I wanted to try something a little different, there would be no pre-determined rules with my songwriting. When it felt right, I did away with the idea of the traditional verse and chorus, opting for a more free-form approach. The production was not aimed at a specific genre, but was chosen to try to capture the mood of the subject matter, drawing on a wide range of influences, from my background in Jazz to my love of pop, R&B and singer-songwriters.
The storytelling on this record are highly personal, but hopefully relatable too."
Karl Zine launched his solo career in September 2020 with debut single 'Greenscreen'. Singles from the 'Hyper' album have been supported by leading online music tastemakers such as Wonderland, The Most Radicalist and Beats Per Minute to name but a few.
Karl's production work to date has earnt him a nomination for MPG Breakthrough Producer of The Year 2021. The artist first found praise for his unique production style and songwriting with RINNGS. Releases from the duo have gained support from tastemaker blogs worldwide and featured on Spotify's New Music Friday in UK, USA and Sweden. Fans of his production include Radio 1, 6 Music, The 405, Line Of Best Fit, The Independent and more. RINNGS have been working on separate projects since lockdown but plan to release new material in the near future.
2020 has also seen Karl Zine developing his obsession with graphic design and lyric videos, creating a new striking flower-based piece for his successful musical collaboration with Norwegian singer-songwriter Iselin, who released their track 'Clear Water' last year. He has also collaborated with Izzy Warner on the Karl Zine co-written/produced 'Brand New'. A version of the song features his vocal as his lesser known alter ego '21st Century Viking' in Will Ferrell's Netflix's cult hit film 'Eurovision: The Story Of Fire Saga'. Karl also co-wrote 'Attention' the stunning pop debut from The Voice UK finalist Brooke Scullion, which featured on Spotify UK, New Music Friday.
Karl Zine will release his 9-track debut album 'Hyper' on January 22 2021.
Track Listing 'Hyper'
Diving
Greenscreen
Mr.X
Legroom
Hyper
Outrun
Saffron
Palomino
Call it a Day
Praise for Karl Zine
"Saffron" beautifully narrates this exact idea. With intricate harmonies skating atop electronic arrangements, the glistening track bleeds with so much raw emotion. – Earmilk
"Karl Zine, diving head-first into this thought experiment has yielded "Greenscreen", a song that is both musically compelling and lyrically thought provoking – Beats Per Minute
"one of the most impressive examples of modern electronic pop 2020 has to offer" – The Most Radicalist
"delivering euphoric bass lines against a feverish landscape of conflicting emotions" – Wonderland
Official Music Video: Outrun
Social Links: YouTube| Instagram |Website | Twitter
Additional Streaming Spotify