HEADLINE SHOW AT LONDON'S SCALA 6TH MAY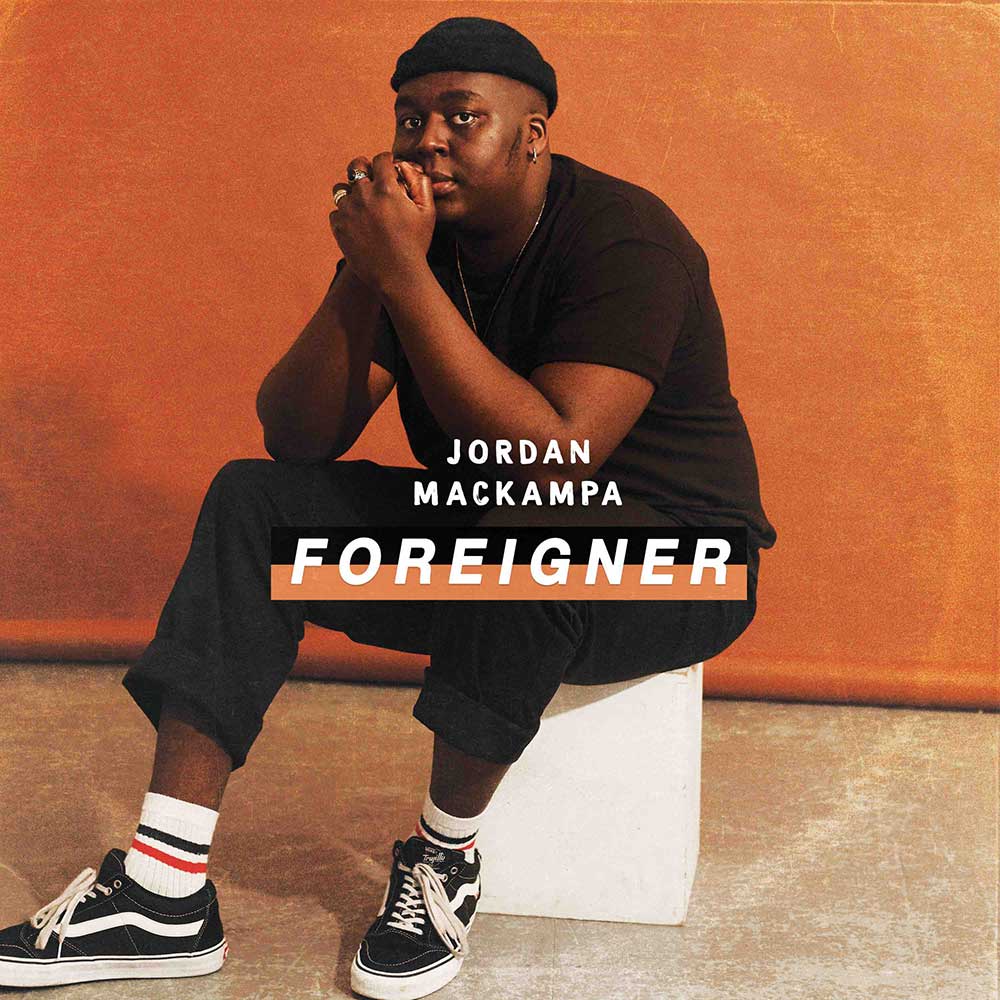 Jordan Mackampa releases his debut album 'Foreigner' 13th March 2020 via AWAL. Produced by Dani Castelar (Paolo Nutini, R.E.M., Editors), the album epitomises Mackampa, an honest modern soul singer who combines personal lyrics with some of the sickest grooves on record. Jordanembarks on a mammoth tour of the US (including a performance at SXSW 2020), UK and Europe this year (following his sold out headline show at Village Underground in November), including a headline show at London's Scala in May – tickets are available here.
'Foreigner' kicks off with 'Magic', a samba-infused, feel-good track about the moments when one particular person plays on your mind and you crave more time with them. Singles 'What Am I', 'Parachutes' and 'Under' offer commentary on the current "thoughts and prayers" climate, feeling trapped by love and instant attraction; whilst 'Tight' tells of loving someone until they find the strength to love themselves again and the album's title track 'Foreigner' sees Jordan navigate attempting to fit into a new home without losing touch of his roots.
Jordan's mother, clearly a strong and influential figure in shaping the man he has become, is represented beautifully through 'Lula' and 'Care For Your Mother'. In 'Lula', Jordan relays a brutally honest conversation he had with his mother about their early years in London adapting to their new surroundings and how his mother feels about it now; 'Care For Your Mother' is Jordan's ode to his mother, who had to play the role of both mother and father when raising him, and a commentary on the advice he wishes his father had been around to give him.
Speaking on the album, Jordan said: This album is a collection of songs inspired by my journey from boyhood to manhood; from falling in and out of love, to feeling alienated, to being able to use my voice to say something meaningful. That's why I called it 'Foreigner'…it's a word that holds a lot of power and I want to change the way people view it so it's no longer taboo. It should represent a strength or even something deeper than that. Through this album, I've been able to share emotions and memories of the people who have been in my life.
Check out his previous singles here: 'Parachutes', 'Under' and 'What Am I'.
The London-based soul singer is the combination of his Congolese roots and midlands upbringing. His soul-soaked, indie-driven tracks swim in the sounds and stories of the cities he's inhabited over the years. Inspired by soul greats including Marvin Gaye, Bill Withers and Curtis Mayfield he pairs timeless vocals with melodies and beats to produce music that both tears at the heartstrings and fills you with joy. With a debut album and headline tour of the US, UK and Europe, 2020 looks set to be an exciting year for Jordan Mackampa.
Jordan Mackampa – Foreigner
TRACK LISTING
Magic
Love at First Sight
Tight
What Am I
Parachutes
Lula
Foreigner
Care For Your Mother
Eventide
Under
Warning Signs
UK & IRELAND DATES
April 24th – Southampton, The Joiners
April 25th – Cambridge, Waterbeach Baptist Church
April 26th – Brighton, Hope & Ruin
April 29th – Birmingham, Hare & Hounds
April 30th – Edinburgh, The Mash House
May 1st – Manchester, Yes
May 3rd – Middlesbrough, Westgarth SC
May 5th – Bristol, Rough Trade
May 6th – London, Scala
May 10th – Dublin, Grand Social
Follow Jordan Mackampa: