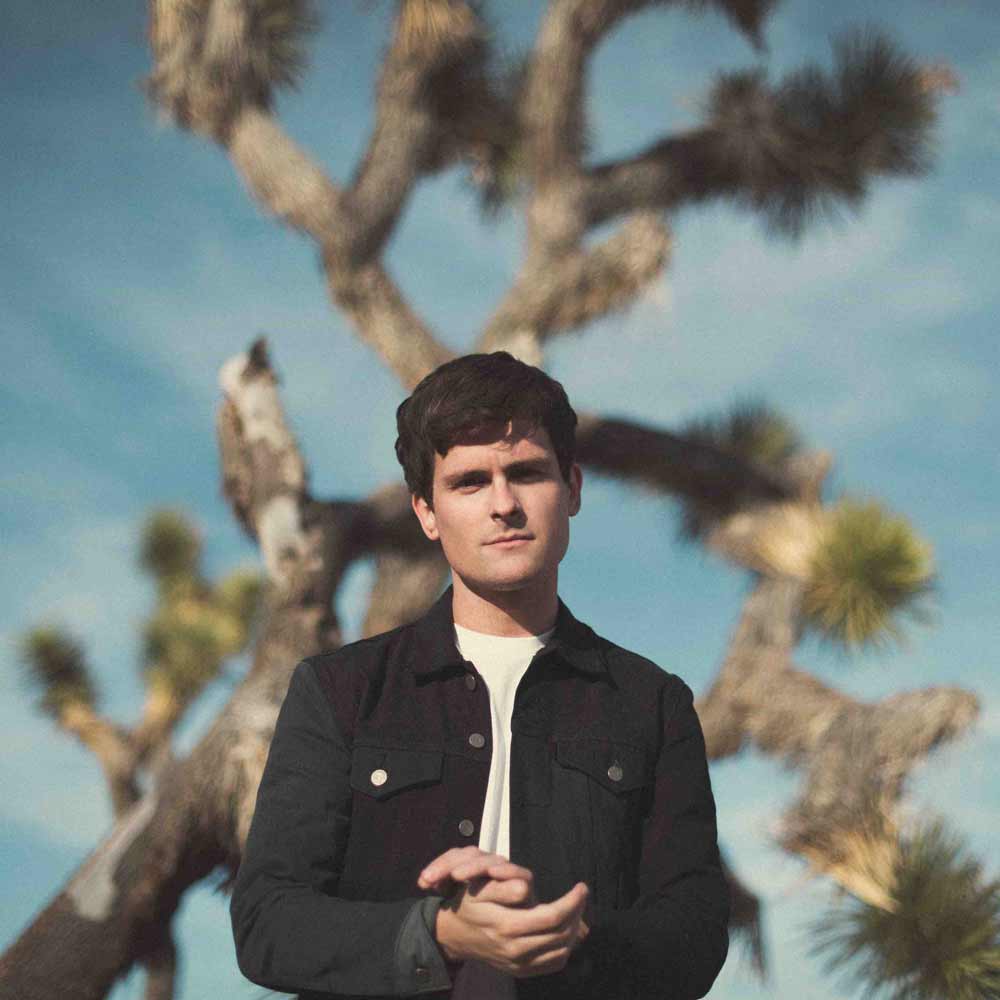 Everything's Waiting for You is an album, which looks onwards and upwards. It was recorded over a socially distanced summer and is now, finally, set to see the light of day. The release of this second record follows Tom's headline tours in the UK, US, Europe and Brazil and a total of 160 million streams across DSPs. Sunny song titles, boisterous guitars, shimmering electronics and lashings of beautiful backing vocals are among the album's calling cards. Nods to Fleetwood Mac, Paul Simon and Stereophonics' Dakota sneak in. "Sonically, it's much more ambitious than [debut] Collide," says Tom. "I decided at the outset that I would really go for it, dive in at the deep end and write a record that requires bigger rooms. There are rocky, bombastic songs that people may not expect from me. I worried it might be a bit risky, but it's fun to shake stuff up."
2019's smash hit debut Collide, was more or less written in hospital as he recovered from complications with his battle with Crohn's disease. A newfound love of life permeates this new record. "I had just come out of hospital with Crohn's Disease after a lengthy stay of 2 months and I just felt like I was ready to fall in love with being alive again and not to take life for granted." says Tom on one of the themes of Everything's Waiting For You. Being in love with life and living is the undercurrent that flows through the entire track listing.
Title track 'Everything's Waiting For You', has already garnered half a million streams, and has been most recently B listed on Radio 2. Most recent single, 'Soak Up' was added to Spotify's New Music Friday and secured Clash's Track of the Day.
Tom has also secured TV appearances with ITV news, Channel 5 News, BBC Breakfast, BBC News, Sky News, Sara Cox TV Show to name but a few. His press includes The Telegraph, The Times, The Metro and The Daily Mail. He has also achieved success in the sync world, with inclusion on To All the Boys: Always and Forever and Virgin River.
Of the pandemic, as well as everything else, Speight manages to see the positive side. "It made me even more grateful that I'd had the chance to spend the previous twelve months on tour. Seeing so many new places and selling out shows in cities I never dreamt I'd visit was incredibly inspiring. It's definitely a positive record."
Finding success in Brazil (including his single 'Little Love' reaching #1 there) is just one of the many ways in which Tom has begun to put his stamp on his corner of the music industry. The others, of course, being the over 160 million streamswhich Speight has garnered, the seven singles which were consecutively playlist at Radio 2, the appearance at Glastonbury Festival. The future looks bright for Tom, and he knows it.
Listen to album here
Track Listing:-
1. Everything's Waiting For You
2. Let the River Run
3. Dive
4. Strange Days
5. Soak Up
6. Feel The Night
7. See You soon
8. You
9. Hymn For Her
10. Shine With Me
UK TOUR DATES – FEBRUARY 2022:
8th: Leeds, Brudenell Social Club
9th: Manchester, Deaf Institute
10th: Bristol, Thekla
11th: London, Lafayette
Buy Tickets
Press Praise for Tom:
"Speight's music takes the best elements of folk and pop music and puts them together to create a raw and infectious sound." – The Telegraph
"Enchanting," – The Times
"Remarkable," – The Independent
"Gorgeous acoustic flecked hymns, trenchant rockers, off-the-cuff folk pieces, Tom Speight can draw his muse anywhere." – Clash Music
"Few artists can make heartbreak feel like both a blast and a wretch." – Atwood
"Tom's nostalgic and catchy folk tunes are consistently amazing" – Alexrainbirdmusic